Meet Our Team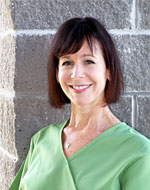 Paige, Registered Dental Hygienist & Office Manager
"I love being a part of this team, we are all "on the same page" regarding our patient philosophy, dental ethics and techniques. It is really great to see the transformation in our patients when they understand the importance of their own daily care as it relates to having a lifetime of good dental health."
Paige has been in the dental profession since 1985 and has worn many hats over the years. In addition to being a dental hygienist, she is experienced as a dental assistant.
Paige joined our practice in 2012 as Office Manager. Her energetic smile and warm sense of fun are a big part of the relaxed, laid-back setting we strive to create for our patients. Away from the office, Paige enjoys healthy eating (her friends and family call her the "food cop"), as well as running and spending time with her husband and grown son, along with a dachshund named Chilidog.
---
Debbie, Dental Assistant & Patient Coordinator
"I enjoy the diversity that dentistry offers. With dental technology today, we are able to help patients of all ages with a lot of different needs. My favorite moments are when we help someone that was feeling hopeless about their teeth turn things around and get a big smile that they did not think was possible. The thank yous we receive are the best!"
Debbie has been a Dental Assistant since 1980; she joined our practice in 2012. She also assists our patients with scheduling appointments and filing their dental insurance. Debbie is a great team player and is always ready with a smile and a helping hand! Away from the office, she enjoys spending time with her grandchildren, restoring furniture and walking.
---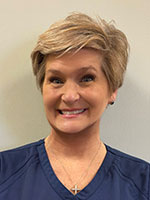 Carrie, Registered Dental Hygienist
"Dentistry has come a long way – there are many options for the patient now to ensure their comfort. We know that dental fear is real, so we always work closely with patients that are nervous about seeing the dentist to support them through each step, going at their pace and explaining what to expect. We have seen many patients overcome these fears with this approach, which means a lot to us too!
I really enjoy this practice and being a part of Dr. Atchley's team. We have a light-hearted spirit, and each patient is treated as an individual, with unique care, concerns and needs. We care for our patients as we would our own family."
Carrie has served the dental profession since 1996. Her commitment to providing her patients with the latest information about oral health and the connections to overall body health is one of the many reasons that they love coming to see her!
---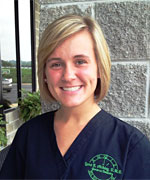 Kaleigh, Dental Assistant & Patient Coordinator
"I enjoy meeting our patients and learning more about them and their families. We have such an interesting and diverse community; it is very rewarding to be part of it and help folks with their dental health. I can see the difference we make in our patients' lives, every day. From helping young children to calm their fears of dental procedures to seniors that want to keep their mouth healthy so they can continue to enjoy a positive quality of life, it is a great feeling to know that you helped someone!"
Kaleigh joined our practice as a Dental Assistant in 2014. Her second "hat" is providing front office support to schedule appointments and help our patients with their insurance and accounts. Her sweet disposition and calm, reassuring manner are appreciated by our patients and our team. Kaleigh enjoys spending time with her family and friends during her free time.
---
Nichole, Dental Assistant
"It is so motivating to see the 'before and after' transformations in dentistry. After 20+ years as a Dental Assistant, the happiness that you see on a patient's face when they see the results of their treatment continues to give me reasons to celebrate what we do!
Dr. Atchley and my co-workers are so friendly and caring; it is a pleasure to be a part of this team. We all work together to make sure that every patient has a pleasurable visit; this is important to each of us."
Nichole has been a member of the dental profession since 1991. She joined our practice in 2014, and quickly established herself as a valued member of our team. We appreciate the benefit of her experience and her positive message about oral health. Outside of the office, Nichole enjoys spending time with family and friends.
---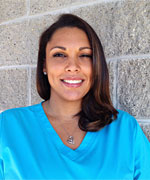 Kristy, Registered Dental Hygienist
"Perhaps my favorite experience in dentistry is seeing and being a part of boosting someone's self-esteem. It is such a joy to help a patient love their smile again! Revealing a beautiful smile to a patient who has not been to a dentist in several years is life-changing, for the patient and us.
Dr. Atchley and every one in our practice really works well together as a team to provide the best care for our patients. Patient comfort is our top priority. Dentistry today offers a complete range of treatments that can address virtually any need. We want our patients to know all their options to help them keep their smile healthy for a lifetime."
As a Dental Hygienist, Kristy educates our patients on their oral health and helps them understand how to prevent dental problems. Kristy originally entered dentistry in 2006, she joined our practice in 2013. Her optimism and enthusiasm for dentistry helps patients that are feeling overwhelmed see the possibilities in their smile! Kristy enjoys spending time with her family and friends, being outdoors, swimming, fishing, biking and working out.
---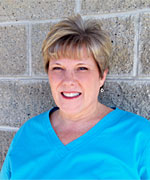 Karen, Registered Dental Hygienist
"With more evidence revealing the correlation of oral health with overall cardiovascular health, I feel that the services we provide are vital. I once had a patient report back to me after I had encouraged him to get a chronic infection source treated. He said that he felt so much better overall and hadn't realized how badly it had caused him to feel. Knowing that we are contributing to our patients' health and well being is very inspiring!
Dr. Atchley's standard of care for her patients is exemplary, offering products and services that are current. She has created a professional working environment that is conducive to providing excellent dental care for each patient."
Karen has been a member of the dental profession since 1979, she originally trained as a Dental Assistant and later attained licensure as a Dental Hygienist. Her passion for health and doing everything she can for her patients is very motivating for her patients and her team. Karen joined our practice in 2014. Away from the office, she loves spending time with her grandchildren, and game nights, hiking, scrapbooking, movies and laughter with friends and family.