Office News
---
American Dental Association®
---
We are a DentalVibe® Provider!
The DentalVibe® Soothing Vibration Blocks the Pain
of Dental Injections - Learn more »
---
Oral Health America
Oral Health America's annual Fall for Smiles campaign is focused on educating Americans about the importance of maintaining a healthy mouth through daily brushing and flossing, regular dental visits, eating healthy foods and avoiding tobacco products.
Visit the Oral Health America web site to download educational materials to share with your family and community organizations.
---
Paint the Town Pink - Flash Night Run for Breast Cancer Awareness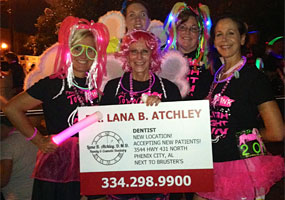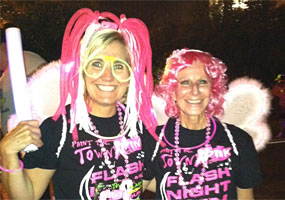 ---
We love our community! We are proud to support:
| | |
| --- | --- |
| Russell County High School | Mount Olive Intermediate School |
---
Announcing: Dr. Atchley is now offering Botox® Facial Treatments!
As we get older, our skin loses elasticity and lines that occur when we laugh, frown or squint our eyes become more permanent - and more noticeable. Botox cosmetic treatments can be used to smooth out those lines and create a more youthful facial appearance. Botox has also been clinically proven to help patients suffering with jaw joint pain, TMJ/TMD.
Dr. Atchley has completed advanced training to provide Botox treatments in the comfort of our office. Contact Us and learn how Botox can help your smile!
---
Oral Cancer
Did you know?
ORAL CANCER CLAIMS ABOUT TWICE AS MANY LIVES AS CERVICAL CANCER
The incidence of oral cancer is rising among women and non-smokers. While it is also increasing in young people, like most cancers, the chance of developing oral cancer increases with age. Studies have also shown a link between oral cancer and HPV (human papillomavirus).
American Cancer Society (Oral CDX Laboratories)
During your regular preventive dental visits, Dr. Atchley will examine your mouth for signs of oral cancer.
Most people will have tiny white or red spots in their mouth at one time or another. Dr. Atchley may decide to use a specially designed brush to quickly and painlessly sample the cells from the spot. This sample is then sent for computer-assisted laboratory analysis to identify the types of cells involved.
ORAL CANCER SIGNS & SYMPTOMS
Oral cancer is usually painless in the early stages, and often goes unnoticed, so screening at routine dental exams is recommended.
Call us right away if you experience:
Mouth sores that persist longer than two weeks
Swelling, growths or lumps anywhere in or about the mouth or neck
White or red patches in the mouth or on the lips
Repeated bleeding from the mouth or throat
Difficulty swallowing or persistent hoarseness
Visit the National Institutes for Health (NIH) web site for more information about oral cancer.